Check THIS out!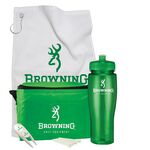 Contour Bottle Golf Gift Set w/ 24 Oz. D...
Bottle golf gift set includes 24 oz sport bottle, divot repair tool, marker set, set of 4 golf tees and 1 golf towel. All placed inside a 6 pack cooler bag. Ideal for golf tournaments, course carts an...
$6.45 - $6.79
Since 1996 MBF Perry Company has been fortunate to have clients all over this great nation as well the Alabama business community. Over the last 18 years our team has cultivated long-distance relationships resulting in marketing and promotional product clients from Hawaii to Maine.
Our team has dedicated themselves to working with our clients as though they are our next-door neighbors! We are a marketing and promotional products company that thinks strategically to help you accomplish your marketing goals.
Co-founders Bill and Melanie Perry, believe in giving back to the community. They serve in the Auxiliary for the Greater Birmingham Humane Society. Our company Ambassador, GB was adopted from GBHS by Bill and Melanie 3 years ago. GB's adoption prompted us to help find homes for all of God's four legged furry creatures.
We look forward to speaking with you!
Call us at 800.304.7008